There are moments in life where our emotions are too intense for words to capture. It could be the all-encompassing love for someone special, the fervent pursuit of a dream job, or the flicker of hope after years of hardship. Regardless of the situation, some emotions are impossible to describe. Whe[...]
Add To Cart
Add 8 Balloons for $42.95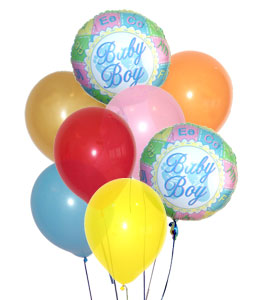 There are moments in life where our emotions are too intense for words to capture. It could be the all-encompassing love for someone special, the fervent pursuit of a dream job, or the flicker of hope after years of hardship. Regardless of the situation, some emotions are impossible to describe. Whe[...]
There are moments in life where our emotions are too intense for words to capture. It could be the all-encompassing love for someone special, the fervent pursuit of a dream job, or the flicker of hope after years of hardship. Regardless of the situation, some emotions are impossible to describe. Whe[...]
There are moments in life where our emotions are too intense for words to capture. It could be the all-encompassing love for someone special, the fervent pursuit of a dream job, or the flicker of hope after years of hardship. Regardless of the situation, some emotions are impossible to describe. When words fall short, the Deep Emotions Rose Bouquet is the ideal way to convey your feelings.

What sets this bouquet apart, you may ask? It expresses your emotions with grace and ardor. One glance at these exquisite flowers can fill your heart with affection and warmth. It is a perfect gift for anniversaries, birthdays, or any occasion that warrants a celebration of your relationship.

The Deep Emotions Rose Bouquet is an enchanting blend of dark fuchsia and peach-orange roses that create a striking contrast of hues. The bouquet is complemented with small deep fuchsia spray roses, light green hypericum berries, and lily grass blades. Each flower is thoughtfully placed to represent the emotions of love, elegance, and passion. The bouquet is arranged in a square, glass vase that enhances its allure.

Whether you surprise your loved one with these endearing roses or use them as a centerpiece for a romantic dinner, this bouquet is perfect for every occasion. It is available with all local florists nationwide and can be delivered on the same day. Order now and let the Deep Emotions Rose Bouquet express your sentiments in the most exquisite way possible.
Item No. B25-4401
Price: $74.95