Jumping for Joy is a bouquet that is sure to elevate the mood of the recipient, even if it doesn't literally make them jump for joy. The name of the bouquet is inspired by the lively and vibrant colors of the flowers, which seem to be celebrating the pure joy of life. The bouquet is composed of stun[...]
Add To Cart
Add 8 Balloons for $42.95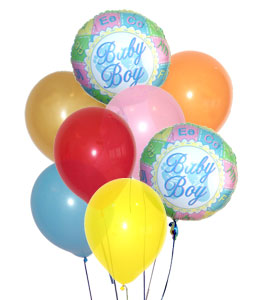 Jumping for Joy is a bouquet that is sure to elevate the mood of the recipient, even if it doesn't literally make them jump for joy. The name of the bouquet is inspired by the lively and vibrant colors of the flowers, which seem to be celebrating the pure joy of life. The bouquet is composed of stun[...]
Jumping for Joy is a bouquet that is sure to elevate the mood of the recipient, even if it doesn't literally make them jump for joy. The name of the bouquet is inspired by the lively and vibrant colors of the flowers, which seem to be celebrating the pure joy of life. The bouquet is composed of stun[...]
Jumping for Joy is a bouquet that is sure to elevate the mood of the recipient, even if it doesn't literally make them jump for joy. The name of the bouquet is inspired by the lively and vibrant colors of the flowers, which seem to be celebrating the pure joy of life. The bouquet is composed of stunning flowers such as roses, carnations, alstroemeria, lavender stocks, and spray roses that come together to create an effortlessly beautiful and ethereal arrangement.

If you're looking for the perfect gift to resolve a fight with a loved one or to lift up a friend who is going through a tough time, Jumping for Joy is the answer. This bouquet is overflowing with the season's best picks of flowers, including ethereal pink spray roses, light pink alstroemeria, slender lavender stocks, and alluring hot pink carnations, all symbolizing love, friendship, honor, and respect.

Jumping for Joy is available for same-day delivery from our local florists nationwide, making it the perfect gift for any occasion. Whether you want to gift it to someone else or keep it for yourself, this bouquet is guaranteed to bring a fresh burst of positivity to any room. So why wait? Order now and spread some joy today!
Item No. T48-1A
Price: $69.95